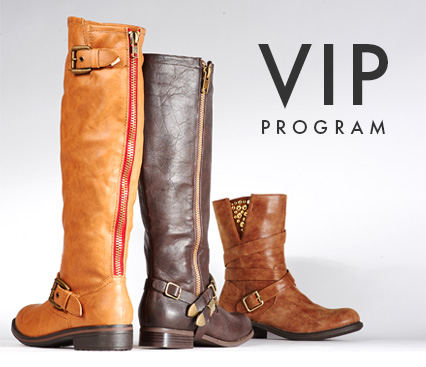 BECOMING A

VIP

IS AS EASY AS:
TAKE A SHORT STYLE QUIZ




Creating your style profile will help our stylists get to know you!

GET A PERSONALIZED BOUTIQUE




YOUR OWN SPECIAL SELECTION OF SHOES, HANDBAGS, JEWELRY & DENIM TO CHOOSE FROM!

SHOP & BECOME A VIP MEMBER




ALL JUSTFAB BRANDED STYLES ARE ONLY $39.95! PLUS, RETURNS ARE EASY AND SHIPPING IS FAST ON ALL ORDERS OVER $39!
HOW THE VIP MEMBERSHIP PROGRAM WORKS:
Get personalized boutique on the 1st of every month.
As a VIP member save up to 50% off your first JustFab purchase. Free shipping on all orders over $39.00 and free exchanges
Visit your boutique by the 5th of the month
Log into your boutique and check out your new selections by the 5th of each month. Shop your favorite JustFab branded styles for $39.95
Skip any month
If you are not ready to make a purchase, simply click Skip the Month in your boutique by the 5th and you will not be charged. Skip as many months as you like. If you do not take action between the 1st and the 5th, you will be charged $39.95 each month for a membership credit to the card on file. Each credit can be redeemed toward 1 JustFab item, which you can use later at any time.
You may cancel your VIP membership at any time by calling 1-866-337-0906 US Only (open 24/7)